Meet the Staff

Jeff Pajula, PGA
Head Golf Professional/General Manager
Originally from northern Wisconsin, Jeff has been with Stonewall Orchard since inception of the course in 1999. Jeff graduated from the Professional Golf Management Program at Ferris State University in Michigan. While doing several internships including the Chicago-land area and Minneapolis, Jeff spent 5 years as the First Assistant at Cantigny Golf in Wheaton Illinois before Stonewall Orchard. While still competing in local and national level PGA events, teaching the game of golf and daily golf operations remain his passion.
Email: jeff@stonewallorchard.com

Brian Dalton, PGA
Assistant Golf Professional
Brian grew up in Evergreen Park, IL and graduated from The University of Illinois at Chicago with a degree in Finance. After graduating from college, Brian spent three successful years as an inside sales rep for multiple companies. He soon realized that the golf industry was his true passion and spent three seasons as an Assistant Golf Professional at Crystal Tree Country Club in Orland Park, IL. Brian takes pride in his customer service and enjoys teaching the game to players of all abilities.
Email: bdalton@stonewallorchard.com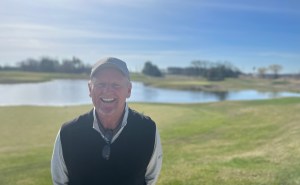 Mark Esler, PGA
Director of Instruction
Mark grew up in Wauconda, IL and has been a PGA member for 38 years.  He has held numerous Head Golf Professional positions including Royal Melbourne & Barrington Hills Country Club.  Mark believes each golf swing is unique and tailors each lesson to suit the individual needs of his students.  Through Trackman and video, Mark is able to identify the core swing fault quickly and develops a game plan for improvement. Mark has taught many top professionals, amateurs, junior & collegiate All-Americans and welcomes the opportunity to help your golf game. 
Email: mesler@stonewallorchard.com

Missy Heeren
Food & Beverage Manager
Missy is a Woodstock, IL native and former Eastern Illinois University student. She currently resides in Crystal Lake, IL. After living in the Tidewater/Virginia Beach, VA, area for 6 years in the early 1990s working in retail management, she moved back to the McHenry County area and has been in the golf industry ever since. Boone Creek Golf Club in McHenry was Missy's first introduction to learning the details of golf course management, including both golf shop and bar/dining room. Missy has been with the staff at Stonewall Orchard as the Food & Beverage Manager since the 2007 season and is honored to be a part of one of Illinois top-rated golf courses.
Email: missy@stonewallorchard.com

Paul Rathnau
Golf Course Superintendent
In 2021, Paul was promoted to Golf Course Superintendent after 8 seasons as the Assistant Superintendent.  Paul earned a Turf Grass Management Degree from Harper College and has been employed in the golf industry since 2005. As a GCSAA member, he takes pride in his turf quality and providing country club course conditions to the general public. 
Email: paul@stonewallorchard.com